What can you do?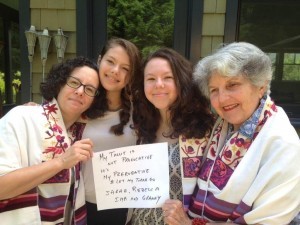 Join us at the Kotel Find future Rosh Hodesh dates.
Celebrate your Bat Mitzvah with WOW on Rosh Hodesh at the Kotel. For women of all ages. Read more, including testimonials.
Rally your community around WOW, organize an event, pressure local Israeli representatives to get involved and demand equality and participate in our latest campaigns. Contact us for more information.
Encourage Bat Mitzvah projects in your community. Bat Mitzvah girls in your synagogue can adopt the WOW cause for their Bat Mitzvah project. Empower young women by teaching about WOW, pluralism and women's rights in Israel, organizing a social action project and raising funds for our work. Get inspired
Wear your support Purchase the WOW Tallit for yourself, or as a gift. Sell the Women of the Wall Tallit in your synagogue gift shop. Over 50 women were detained and jailed for wearing this tallit at the Western Wall, and thousands have purchased this tallit to wear their support for our struggle for equality. Ask us about special rates and bulk purchases.